Winchester Cathedral Choir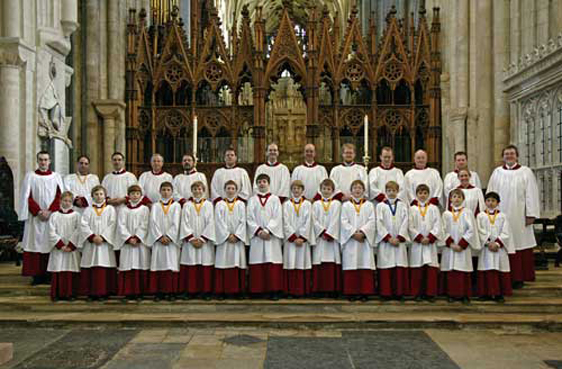 Andrew Lumsden, Organist and Master of the Music
Winchester Cathedral Choir is recognized as one of Britain's leading cathedral choirs, both for its singing of the services and in concert. In recent years, they have undertaken tours of Holland, Italy, Norway and Germany singing repertoire ranging from Taverner, Weelkes and Byrd to Howells, Leighton and Tavener.
The earliest records of this 900-year-plus Cathedral mention an organist in 1402 by the name of John Dyer, who was "bound to sing and play daily at the Mass in the Lady Chapel, play the organ and teach the boys singing." In 1544, King Henry VIII decreed by statute that there should be ten boys in the choir and one organist. Their principal function is, of course, the singing of services in Winchester Cathedral and, during term time, they sing an average of eight services each week.
The Choir comprises sixteen to twenty choristers and twelve lay clerks, whose numbers are augmented when larger forces are required. The choristers are educated at The Pilgrims' School, where they all learn at least one instrument, and the majority of them win music scholarships to their next school. The lay clerks are all experienced musicians, many of whom work in the fields of composing, conducting, arts administration and teaching.
In addition to services, the Choir gives regular concerts both in the Cathedral and beyond. In recent years they have performed with orchestra for the BBC Proms, in the Spitalfields Festival in London, in the Royal Albert hall, in Sherborne Abbey and Douai Abbey. In 1999, the Choir visited Florence, where they sang services and gave a concert at the Cathedral. Later that year they toured Holland, singing an evensong and recording for Dutch Christian Radio in Utrecht, as well as giving concerts elsewhere. They were featured in a televised recording of Handel's Messiah for Meridian Broadcasting as one of their special millennium broadcasts. In early 2001 they visited Oslo to perform in the Oslo Church Music Festival.
Winchester Cathedral Choir records regularly for Hyperion and Virgin Classics and recent discs have included Byrd's Mass for Five Voices for the Feast of Corpus Christi, anthems by Tallis, John Blow, Weelkes and Peter Philips, a disc of Stanford's major choral works and CDs of Christmas carols and anthems. Other recent recordings include Lux Aeterna, released by Virgin Classics and a Hyperion CD of anthems by Gibbons. In addition, Hyperion has just released a second disc of Tallis masses and motets.
NEW YORK CITY "… the Winchester Cathedral Choir gave further proof … that a choir of boys and men is capable of expert and expressive music-making at levels of complexity that might intimidate many adult ensembles … and of doing it with uncommon persuasiveness."
The New York Times

LOS ANGELES "… the splendid cathedral ensemble – its men and boys solid in vocal achievement, firm in balance, tone and dynamic resource, radiant in expression …"
The Los Angeles Times
NEWARK "The men and boys of the choir are awesomely proficient in performance; they sound as though they could give a good concert in their sleep."
The Star-Ledger

Recordings: Argo, Ariola, ASV, Chandos, EMI, Hyperion, Virgin Classics